By Theo Douglas, Staff Writer
Long Beach Press Telegram
Wednesday, April 16, 2003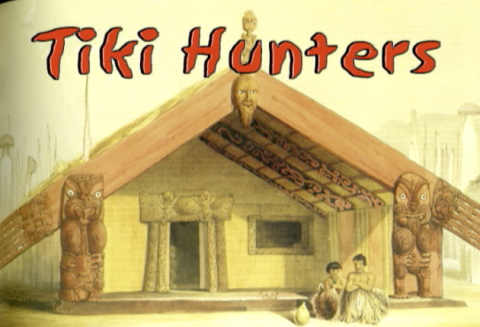 No matter their hometown or their station in life, everyone born in the year 1958 shares a coincidental bit of timing with Long Beach resident Matt Cohn.
"That was the year that "Quiet Village" by Martin Denny was released," says Cohn, name - checking the classic Denny LP, one of many the artist recorded that blended vintage Hawaiian music and exotic jungle sounds a melange that has since been hailed by some as the unofficial soundtrack for '50s lounge culture.
Clearly, the difference between Cohn and others his age lies in his appreciation of Denny, Hawaiian music, Polynesian-style feasting, lithe natives in grass skirts, hand-carved idols, and the whole tiki style of architecture and good times that flourished in the U.S. during the 1950s and 1960s.
Now Cohn, a professional musician by trade, is letting his enthusiasm show. He and lifelong friend David Witham filmed a 24-minute documentary, "Tiki Hunters," that he'll premiere tonight on Witham's Long Beach local cable show, "Portable Universe."
"I've always liked this stuff, since I was a kid. I always thought it was really outrageous," says Cohn, buttoning a deep green sport shirt reminiscent of a vintage Hawaiian top, in preparation for taping. "That was an interesting era and it" s great to see that rebounding."
There's no question that interest in faux Polynesian-inspired tiki idols and commercial architecture is again on the upswing. It has been rising, in fact, for the better part of 10 years, since 20- and 30-somethings discovered the giddy delights their parents knew, of sipping bottomless tropical drinks in the few such tropical-themed restaurants and watering holes around.
Some credit people's perennial need for escapism, no matter what the year, with reinvigorating tiki culture.
"They brought good times, a little excitement (spooky) things hiding in the bushes," says veteran Whittier-based tiki carver Leroy Schmaltz, whose store, Oceanic Arts, is a 40-year tiki furnishings retailer. "And I think when times are a little scary, people kind of want to go to the tropics or something, escape a little bit. Somebody's always looking for a new experience."
Schmaltz one of the few entrepreneurs who never deserted the style is always good for an interview. His stories of how he and his business partner visited the South Seas more than 40 years ago to study traditional images they could utilize in their own tiki carving are a centerpiece interview in "Tiki Hunters."
And while it doesn't linger any one place too long -24 minutes, after all, goes by fast- the documentary visits many of the key tiki repositories remaining in the Southland.
The tiny Tiki-Ti bar in Hollywood is amply filmed, as is the Royal Hawaiian restaurant in Laguna Beach. Closer to home, Cohn and Witham devoted considerable time to Sam's Seafood in Seal Beach, a restaurant that, like area Trader Joe's stores, was partially decorated by Oceanic Arts.
"You can go to Sam's Seafood and see a great example of a Marquesan tiki, but it's painted in fluorescent to show up in a bar," Cohn remarks, explaining how the style lends itself to an evening out.
Witham credits his friend as the main force behind "Tiki Hunters," but he says they share a lot of the same enthusiasm for retro culture. And there is a very fine line in decor and decorum, Witham jokes, somewhere between Disneyland's early lounge, the Enchanted Tiki Room, and the "enchanted tacky room." He also edited the project, using it as an opportunity to master Apple's Final Cut Pro software.
The kitsch factor aside, people around the world are once again walking that line, imbibing tropical drinks and decorating their homes with thatched bars festooned with dried puffer fish and prints by the artist Josh "Shag" ' Agle, for whom tiki is a major influence.
The Polynesian style easily can be overdone and it gets shaggy in old age, as evidenced by Downey's late, lamented Tahitian Village nightclub. But newcomers are still being wowed by the few vintage A-frame tiki restaurants still around.
"I was fascinated by these 1950s straight-looking Americans next to these primitive idols," Hamburg-born cinematographer Sven Kirsten told Cohn for his film. Kirsten's recent Taschen-published "The Book of Tiki" is one of the Bibles on this leisure lifestyle.
"Yes, it was inspired by Polynesia, but it was a pure pop culture phenomenon," Kirsten says on camera. "Everybody wanted to believe in a fake Polynesia."
Cohn and others like him certainly do.
"When I was little, I couldn't get into any of these places. My sister and I would stand outside and look in, and it was this kind of forbidden thing," he remembers. "There was Lelani, where Legends (sports bar in Belmont Shore) is now, and Mr. C's, where the Brazilian barbecue is now" on Pacific Coast Highway.
Times have changed, but a few tiki restaurants, emporiums and even tiki-style hotels remain.
Cohn and Witham hope to screen their documentary at one, the Caliente Tropics in Palm Springs, where Tiki Oasis II, a weekend dedicated to the tiki-ish activities of lounging by the pool sipping tall drinks, surrounded by a plethora of tiki enthusiasts, vendors and appropriate bands, will be held Mother's Day weekend.
His and others' parents may have overdosed on restaurants with thatched roofs, powerful, fruity beverages, and waitresses in grass skirts serving what sometimes amounted to bad Chinese food. But everything old is new again sometime.
"There's really not anything like it that's as much fun, kind of wild and kitschy but still cool," enthuses Wes Johnson, owner of the House of Tiki store in Costa Mesa, which sells the appropriate home decor items. "Anything goes. there's no mistakes in tiki. You can get as gaudy and kitschy as you want in tiki, and it still looks good."
Words to live by. Tiki.