Saxophonist Ernie Watts says band has a 'common bond'
From pasadenasun.com - August 05, 2012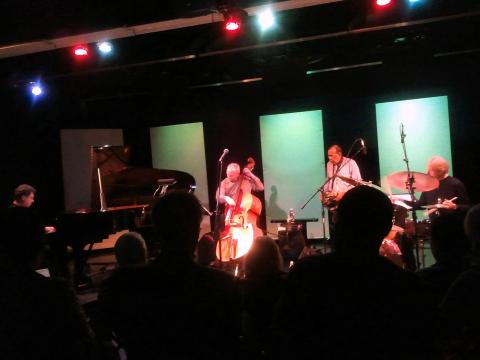 By Kirk Silsbee
Tenor saxophonist and bandleader Ernie Watts has long been identified as a Los Angeles artist, but his local appearances are a precious commodity. He spends much of the year traveling the world as a visiting soloist or relaxing at home in Cambria, so when his quartet appears Sunday at Levitt Pavilion in Pasadena, it's an event.
After settling in L.A. in the summer of '68, he became one of the busiest players in the Hollywood studios, and a member of the Tonight Show Orchestra. Over the years, Watts has recorded with everyone from Marvin Gaye to Thelonious Monk to Carole King to the Rolling Stones. Though it convenes on an irregular basis, Watts has long maintained his band (with pianist Dave Witham, bassist Bruce Lett and drummer Bob Leatherbarrow) for many years.
Speaking from his home, which he shares with his wife and business partner Patricia, Watts says of his band, "We all have a common bond because we're all coming from the same direction; we have similar musical values. Bob Leatherbarrow and I have been playing together since the '70s — he's a real jazz drummer. He loves Elvin Jones, Max Roach and Art Blakey: all the drummers I grew up listening to. When you put a band together, you don't want to have to teach people how to play your music."
What role does he see the quartet fulfilling? "My manifesto," he replies, "is to play the best possible music at the highest possible level. That means at all times reaching for it, never playing it safe, because when you do that, there's no growth. You go for the excitement, the freshness, the spontaneity; that spontaneity is what our music is for. When things get too ordered, too codified, a basic 
essence disappears; the magic is gone. It's like alchemy."
Pianist Witham, known for his years with guitarist George Benson, first played with Watts as a teenager in 1978. From his home in Long Beach, Witham recounts: "We were playing things like John Coltrane's 'Countdown' with unison piano-and-sax choruses." Witham says. "It was a heady experience!"
Witham sees the quartet's purview as "in the jazz tradition; we're very aware of the continuum, Latin music, and the blues, of course. The styles encompass the 1950s to the present."
Acknowledging Watts' demanding schedule, Witham reveals, "Sometimes we've had just four gigs a year because Ernie flies everywhere. But we still have a collective shared experience, and sometimes the energy level is just hilarious. You get a swirl going and you get into a cycle, and then it's almost an oscillation — the great bands could all do it. With this band, it can even happen on a ballad."
Watts so trusts Witham's pianistic and harmonic gifts that they've collaborated on about 20 songs together. "He'll come in with a fully-formed song," Witham explains, "and we'll work on the harmony together. Some of them may need a little melodic invention, but Ernie is a primo melodicist. His songs never use devices for their own sake — they cut right to the melody. Even when the playing gets complicated, Ernie gets back to the melody."
That heart-stopping gift for melody can be heard in Watts' latest recording, "Oasis," released by Flying Dolphin. After eight fast numbers and rhythm tunes, he ties into the sublime Johnny Mandel-Dave Frishberg ballad, "You Are There." Luxuriating in the slow melody, Watts lets us hear the dimensions of his sound — its core, veneer, and iridescent shadings — to study like a piece on a chessboard.
Witham maintains, "At least once a night Ernie can just amaze you — just like all the great ones do."