Memories
I wrote this for Jose Feliciano's website a long time ago...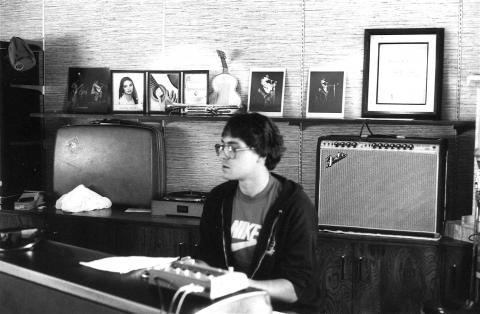 In 1981 I was a recent graduate of the New England Conservatory of Music and eager to hit the road and put all of my musical training to the test. In the fall I got word from drummer Frank Cotinola that Jose was looking for a piano player and that he could get me an audition. Frank had been playing with Jose for a while, and in between tours we were playing club gigs in Laguna Beach, CA.
I went up to the Feliciano's Anaheim Hills home and he Frank and I played a few songs - without a bass player. When he found out what my last name was, he immediately dubbed me David con Jamon (with ham), a nickname still used by many to this day. I asked Jose if he had any sheet music for me to read, to which he replied "No, what am I going to do with a chart? Use your ears!" So we played and I thought it went alright, but he ended up hiring someone else. That person didn't work out and I ended up getting a call back. We convened once again and played a few more songs - this time with bassist Michael Thomas - and things seemed to fall into place.
Our first gig was at a club in Memphis. We hadn't really rehearsed a show's worth of music, so I knew that Michael and I would be flying by the seat of our collective pants. What an understatement. I seem to recall at some point in the show Jose launching into a song he'd heard on the radio that afternoon on the way to the gig! At least I had the luxury of being able to lay out the first time through any song that I didn't know and hear what the chord progression was since Jose would be accompanying himself. But poor Michael Thomas just had to jump in from the beginning and sink or swim. It was all a bit terrifying initially, but those experiences helped make me a quick study and really developed my ear - very valuable stuff after all those years at school with my head buried in the sheet music. It was a trial by fire that still serves me well today and one that I'll always be grateful for.
Shortly after that we did the first of many tours to Europe. I think that in two years on the road with Jose, five months were spent in Europe. We also went to the Persian Gulf region (Bahrain, Dubai, Abu Dhabi, and Qatar), Egypt, Israel, the Caribbean, and all over South America -- not to mention many places in the the U.S.
I was also fortunate to get to work in the studio and to collaborate with Jose on the song "Cuidado" which is on the "Romance in the Night" album. I'm still amazed at what he did with the two bar riff that I came up with at rehearsal one day. That was one of my earliest studio experiences, and it was a thrill to work alongside Victor Feldman and longtime Elvis drummer Ron Tutt. I was so happy to see my name listed as a co-writer on the label of that record. During that period, we even made a video for Motown on "Ain't That Peculiar" that features me pretending to play the trumpet!
When I consider that period of my life now, I realize that it was where a real broadening of my perspective and my real education began. Those tours opened my eyes, ears, and mind to things that I'd only read about in books or seen on TV before that. I feel very fortunate to have been able to share those experiences and play music with one of the all-time great vocal and instrumental talents. I'm still fondly reminded of Jose every time I play "Affirmation" with George Benson.