Gauthier+Wisdom+Witham At Alvas 07.12.12
From lbpost.com - July 11, 2012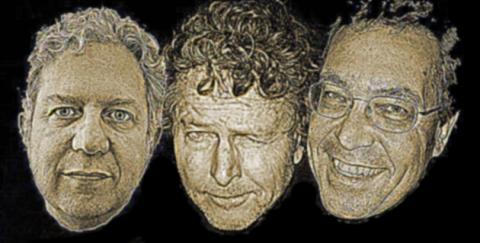 by Sander Roscoe Wolff
Thanks to drummer Christopher Garcia, I found out about this little place in San Pedro called Alvas Showroom. It is on a one-way street, and it is actually a bit tricky to find but, for some reason, they have amazing musicians performing there all the time. 
I mentioned that it is little. It is a dance studio during the day and, for shows, they can squeeze in about 60 people if they're feeling friendly. Strangely, they have not one, but two beautiful grand pianos and a great sound system. 
Now, while some have accused me of wanton hyperbole, I say to you with complete sincerity that, the very first time I went there, I experienced the best musical performance of my entire life. At one point I was actually laughing aloud because my brain could not fully cope with just how good it was. 
Now, I know that some people like 'this', and others like 'that', but I like to believe that, when it comes to good music, anyone who has developed an appreciation of quality in one genre can, with an open mind, enjoy quality in another. 
So, all that being said, let's go back to that first mind-blowing show. Part of the reason that it was so good was that pianist, and Long Beach native, David Witham was playing. He's a monster. Yes, he was George Benson's touring band leader for 15 years. Yes, he's played in the pit and conducted for Wicked, Lion King, and many other Southern California productions of Broadway shows. Yes, he's deeply connected with all the upstart L.A. jazz hot shots like, for example, Nels Cline. 
Even on a bad day, David's talent is humbling. He's adventurous, willing to mix things up, throw curve balls, and take great pleasure in sending his musical cohorts careening in unexpected directions. 
It's more than that, though. He loves his gadgets, to make noise, and play with new instruments. He enjoys pushing technology to its limits. He's also willing to play with anyone. He's even played with me, in my systems-based improvisational duo, Ain Soph Aur. 
But one-off gigs, while fun, don't always allow for that deep, lizard brain, lightning fast intuition that comes from working regularly for 22 years with like-minded, and equally talented, jazz violinist and Cryptogramophone Records founder Jeff Jeff Gauthier. Jeff's label has documented excellence and daring in L.A's jazz scene. It has drawn on monumental talents, encouraged unexpected collaborations, and produced some breathtakingly beautiful recordings. Not surprising, considering that creative risk-taking is mother's milk for Jeff. 
Let me say this clearly, so there's no doubt or confusion in your mind: The performance featuring Jeff and David at Alvas Showroom tomorrow night will be great. Go. Ok, so they charge a lip-biting $20 at the door, but wait! Nobody is turned away, and they accept whatever donation you feel comfortable making. You can even drop a few bucks on the way in and, if you liked the show, drop a few more on the way out. They won't mind a bit. 
But wait! There's more! Joining David and Jeff is famed performance painter Norton Wisdom. Like them, Norton is part of the Southern California music scene, having worked with members of Jane's Addiction, The Rolling Stones, The Red Hot Chili Peppers, Beck, the Grateful Dead and DJ Nobody. In Long Beach, he may be best known for his shows at diPiazza's with Banyan. David, Jeff and Norton have worked together many times, and all are equal participants in the improvisational dynamic. 
So, this Friday night, drive over the bridge to San Pedro and make your way to Alvas Showroom, which is located at 1417 W. 8th Street. The show starts at 8 PM. If you want to make reservations, you can call 1-800-403-3447. I plan to arrive early so I can get a good seat! 
--- 
Find out about upcoming shows, and explore archives of past shows, at the Alvas Showroom. 
Check out Jeff's Goatette site, and do some shopping at Cryptogramophone.com. 
I interviewed Norton last Spring. 
David was one of my first interview subjects for the Long Beach Post, way back in 2008.