By Theo Douglas
Long Beach Press Telegram
Thursday, June 21, 2001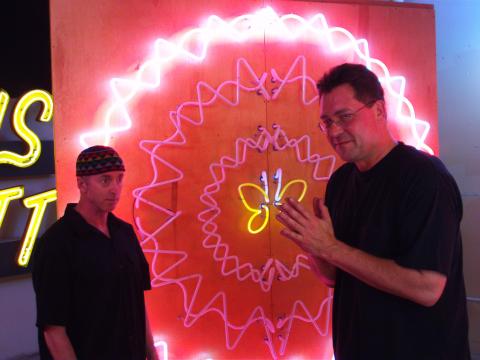 When cities sleep, Neon Hunter prowls. Down Broadway, up Crenshaw, along Pacific Coast Highway - across the Southland.
He finds forgotten objects in neighborhoods men fear to tread: Green faucets that drip- drip-drip gassy tears of water; orange hammers that pound neon nails endlessly until the sun comes up; blinking Topanga Canyon trout that leap into buckets all night; electrified hamburger chefs who run in place, across the sky. Now you can see them, too.
All the signs are real. Only Neon Hunter, intrepid architectural adventurer that he is, is an invention of Long Beach neon buffs Matt Reid Cohn and David Witham. Created three years ago essentially to fill space on Witham's weekly Long Beach Community Television cable show, Hunter (who is actually Cohn in a watch cap and sunglasses) has taken on a life of his own.
"He's like an ongoing character. And neon hunting is just something we do," Witham explains.
The latest in his - uh, their - series of short eight-millimeter films of neon signs will be screened Saturday in Los Angeles at the Museum of Neon Art's 20th anniversary show and fund-raiser where Cohn and Witham will also have one of their own neon art pieces on display.
Not bad for the figment of two active imaginations.
"The first episode (of my show), I had some music lined up," remembers Witham, a professional musician who is the principal keyboardist in the ongoing Pantages Theater production of "The Lion King." "I said to Matt, 'Do you have any creative ideas?' "
"One hundred miles later, we had a video," Cohn interjects. Like Witham - his friend since seventh grade - he's a professional musician, performing regularly in a band at Belmont Station in Belmont Shore. In their most recent collaboration, the two men join with percussionist Dan Morris as the Neon Collective, in creating soundtracks for their films, which are typically around 10 minutes. The Collective will perform Saturday at the Neon Museum fund-raiser. But it's this dynamic duo that actually finds the neon.
"It ties into our music, because it's nocturnal," Cohn says. "We relate to it because we're night people."
"We're always driving at night," Witham adds."
Musicians work odd hours - say, 9 p.m. to 1 a.m. - and so does neon gas. Together with argon, radon, krypton and helium, it's one of five inert gases that will glow a certain color if you seal it in a glass tube, then hit it with electrical current. Mix the gases with powdered color, as signmakers did back in neon's mid-century heyday, and there are around 600 colors at your disposal.
On major thoroughfares through modern cities, neon has become non grata as city councils update sign codes to get away from the gaudy overuse of the gas. Only aficionados like Neon Hunter and museums like MONA are left to document what signs remain, to periodically rescue outdated examples before the buildings they cling to are razed, and to show pieces by artists from the past 50 years who work in neon.
"The idea of the show was to look back at what preceded the museum's existence," MONA Director Kim Koga says of the anniversary exhibition. "There's a perception of neon to be this real cutting edge art. But we use this example of this Italian artist Lucio Fontana who was using it in the '40s and '50s in Italy."
That's a long way from modern Long Beach, but in their multimedia piece Jazz-O-Lette, Cohn and Witham continue a long-standing tradition of multimedia neon art. The piece - created earlier this year for Smithsonian Week and shown in Long Beach City Hall - blends a vintage record player with neon lighting and a CD machine playing jazz greats to give folks an introduction to jazz. Long Beach Public Corporation for the Arts President Robb Hankins helped select Jazz-O-Lette for inclusion in Smithsonian Week. He says the work hits the mark by blending neon and jazz.
"Jazz-O-Lette is a wonderful combination of art and history and culture and nostalgia all coming together with jazz and neon," Hankins says.
Cohn and Witham's films add historic preservation to the mix. Their brand of filmmaking involves a whole lot of driving around areas they - and you - might otherwise avoid or overlook. There's Broadway east of Redondo Avenue in Long Beach, home to the Loma Liquor sign and its flashing light bulbs surrounding neon letters. Further east on Broadway is the 3636 Club's sign, with its triangular pool rack and numbers that spell out the club's address.
"Long Beach is like that," Witham says. "It's really old school."
So is the stretch of Pacific Coast Highway through Lomita, which features a group of old motels with towering neon signs; Crenshaw Boulevard in Los Angeles, with its dripping faucet sign for plumber Jack Stephan. And so is Koreatown in Los Angeles, with its Korean characters rendered in neon, spelling out the names of karaoke bars.
Koreatown tries; so does Ripley's museum in Hollywood, with its neon-festooned dinosaur; so does the Starbucks on Sunset Boulevard with its neon aquarium. Ditto for the Hard Rock Cafe with its neon-flamed Cadillac. But the new signs just aren't the same, the two men say. If their fixation has a focus, it's on the older signs, with bulbs that blink, fish that leap, water that flows and letters that advertise drive-in shoe repair.
"The pictorial ones are really great to run across. Those are the ones we try to find," says Witham. "New ones, they tend to make them static, less blinking and action."
Says Cohn, "There's a ton of new businesses that use neon. Like the (Aquarium of the Pacific). Some use it for trim. When people want to make new ones now, it's almost retro."